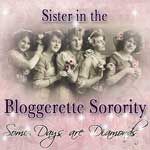 This is as close as I will ever get to belonging to a sorority
AND
what better sorority to belong to then the,



Bloggerette Sorority

!



check it out over at Karen's place, Some Days Are Diamonds
she has all the details there, come on you know you want to join the fun.

To be a part of the sorority, we have to do a rush,
that is common knowledge.



Here is what Karen says




"Now everyone knows to be initiated into a Sorority - you must "Rush"
Your rushing preparation will take place between now and
June 25th.
Then on that Friday ~
we will announce our Sisterhood!
To rush you must do the following:
and create something with it.
Post to your blog your creation, with you in the picture"
Now I do have to tell you I don't like having my picture taken so
this must be pretty important to me to do this
,
so here goes
......
There ya go. And I am wearing pink and so are my ladies in the picture. I colored the picture and mounted it to card stock. I will hang it on my idea board (once I get one up).
I am linking to
Pink Saturday
and
Bloggerette Sorority
today. I hope you will visit Beverly and Karen to see how they are blessing us with their unselfish ways, by putting on their blog parties.
Thank you Ladies.