Would you like to be a sister in the Bloggerette Sorority?????
Just click on Karen at this address
SomeDaysAreDimonds
.... to find out all the details..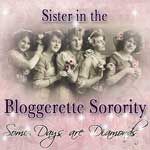 Won't you join us.

Now everyone knows to be initiated into a Sorority - you must

"Rush"
Your rushing preparation will take place between now and
we will announce our Sisterhood!
To

rush

you must do the following:
and create something with it.
A banner, a hanging, an ATC,
a piece of jewelry, a tag, a card . . . anything!
Print the picture and place it in a frame -
it doesn't have to be fancy!
Just use your imagination. The possibilities are endless.
You have inspiration all around you.
After all . . . that's what our blogs do - they inspire us.
This can be as simple or as elaborate as you like.
Then take a picture of your creation.
You must be in the picture too.
You can always take a self-portrait in a mirror.
Because we all want to see who are
Then post your picture the day of our
Friday - June 25, 2010


Come on join in, you know you want to.....