Quilting in
Lime, Black, Grey & White
My latest project is for my son and daughter-in-law.
Josh and Michele
They wanted lime green, black, med grey and white.
Well this is a very lime top!
After making about 16 blocks I decided I did not like it
So something needed to happen.
she has tons of blocks there and all for free. Thank you Marcia.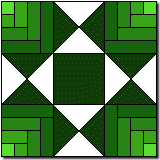 I know the colors are hard to see,
sadly my camera is not picking them up to well.
The black has lime green dots. What looks like yellow
is a bright, bright lime and white. Then two different limes,
one with teal seed shape, shapes.
I changed it around a little because I did not like how the
fabrics I had chosen worked out.
As I mentioned I did not like the idea of a whole king
size quilt done with just those blocks soooooo
I had to figure something out.
and there is a class I am taking called Finishing School
by Winnie Fleming.
She teaches about making pieced borders.
Now I have done this before on my Ruffled Roses quilt
but it never crossed my mind.
I began making borders to add to the center.
First came a black border, next a lime border
both plain borders.
Next a 4 patch border.
Starting with a 4 patch with 1 1/2 finished squares
Add half square triangles one in lime and one in grey
Stack them like so and sew together to create
this border, which will be added to the last lime border
for this.
Next make half square triangle squares
which will be added thus
to create this.
What next? I don't know yet.
First I need to finish the other 3 sides,
so I am off to sew.