Welcome to "Where Bloggers Create" blog party. With over 450 participants, this party promises to be full of inspiration, fantastic spaces, and just plain fun. To visit the other blogs and see how it all works go over to
My Desert Cottage
for a visit with Karen (or click on the button below).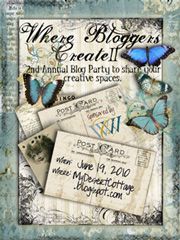 I am also linking to

Pink Saturday

, to see more

pink

posts visit Beverly @
How Sweet the Sound
or click the button.
Note:

If I have not made it to your blog yet to see your studio, I will. It is June 28th as of this note and I am in the "B's" so as you can see I am taking my time and absorbing each space.
Ok, now to the party......................................

First up........my sewing area. One of the things I like to do is quilting. My sewing area is still in the master bedroom. Two years ago we made an addition to the house, going from 800 sq feet to 1700. This addition includes a new studio on the second level. We are not finished with it yet (we are on the pay as you go plan), so my sewing area is still down stairs. I do have an awesome view, and a bay window to sew in. No fancy sewing table here, but one of our dining room tables.
I wanted to introduce you to one of my sewing helpers. This is Missy Moew. She loves to help sew, she is inspecting the sewing machine to make sure everything is working right and the thread is in the needle.

















In this same room I have book cases holding my supplies. The one below holds some fabric,
embroidery threads, laces, patterns and whatever else lands there. I admit I cleaned it up a bit.
My sewing table is in the lower corner (just so you can see how things connect).
A close up of my embroidery thread storage, it is intended for use in the garage for nuts and bolts, but works wonderfully for threads and small items. The other containers have smaller containers inside, that I keep my beads in. Also I use several TV dinner type containers (plastic with 3 sections) to hold embroidery supplies as I work on a project for my Crazy quilting. Remember to click the picture for a closer look.
On the top shelf I keep some of my pincushions, laces, ribbons and a picture of my daughter and I.
See, honest it is in the bedroom and I use the bed for a staging area. The white thing standing up in the window is a magnifying lamp. I must remind you if you have one of these lamps to keep it out of the window when you are not working. The sun beats in this window in the afternoon and magnified thought the lamp glass and caught one of my finished quilts on fire, thank goodness I walked in the room and smelled it, what if I had been gone? Very dangerous.
Is it break time yet? All this sewing is making me tired...........
The other, of the two, bookcases in our room holding my sewing things. I won't know what to do with all the room once they are moved to the studio.
This holds more lace, ribbon, buttons, beads, patterns and a bunch of other stuff, including Calgon.......which I will use with some dyes for fabric. Now if you will go through the door there,
we will head upstairs to the
studio.
A collage of some quilts.
As we enter the studio, I need to introduce you to Me Moew. He is enjoying some sun, we have had alot of rain this spring so the sun is very nice.
This room is not finished as you can see....but it is usable, so why not. First up, is my cutting area (well it will be once I move the sewing up here). This used to be in my kitchen, I have now re purposed it. It has good storage space and a nice size cutting surface.
A wider view of the room,
over in the corner will be a wood stove to keep things warm (it gets to -25 around here), next to that under the window will be where the sewing area goes. Tile will go on the floor in front of the door. If you'd like to see the building of this room and the rest of the addition visit my Wyoming blog
here
. This link gets you to where we began on the addition.
A hutch I refinished to use in the studio.
My longarm quilting machine. This room was built with it in mind, it was housed at a friends for two years, so good to have it home.

The back side of the longarm, with drawers underneath for storage.
Looking at the room from the other end.
Way over there is my scrapbooking area, we will come back to that in a bit.
Going back downstairs,............I guess, sewing was very tiring for Missy Moew.
Missy Moew is asleep in my chair where I sit to do my embroidery.
A collage
of some Crazy Quilting
and bead work
.
My stitching area, when it is not being used for a nap.
To the right are the stairs that lead up to the studio, in fact lets go back up to see my scrapbooking area. After you......
Do you scrapbook? Here is a collage of a few of my things. Don't you just love the word albums, and what do you think of the dog food cans, re purposed and decorated, to hold pens and such?
My work area, an old school table, provides alot of room to spread out. The opening on the other side of the table, is the staircase we just came up, in the background is the longarm and sewing area.
Back downstairs in the dinning room you will find my jewelry area. Inside this desk, with the grandchildren overseeing the work.
Open the door, and you see the goodies.
Lastly a few of my pieces. Jewelry making is new for me.
I hope you have enjoyed your visit and you have gained some inspiration. Thank you for coming by, I hope you will come back again. Please leave me a note to let me know you came by.

God's blessing to all.